FACILITIES
Through education in schools knowledge, skills and values are instilled in children. It is essential to ensure that all children are enabled to realize their potential. The physical environment in which learning takes place has a large impact on the outcome of education. The facilities in a school are crucial tools that assist in imparting quality education to its students. The infrastructure in our school has been carefully planned so that it meets the requirement of each and every student.

The following facilities are available in the campus.
Laboratories:
Knowledge imparted without experimental evidence remains superficial. As Confucius said

I hear and I forget
I see and I remember
I do and I understand

The school's well-equipped laboratories serve their purpose of instructing and stimulating greater interest in science. Students are given ample opportunity to apply scientific theories and analyse scientific concepts. The school has well-ventilated, separate laboratories for Physics, Chemistry, Biology and Computer Science.
Physics Lab:
The scientific apparatus in the lab enables students to think in a divergent way and develop a multisensory approach for comprehending different concepts in Physics.The lab contains the required apparatus in sufficient numbers so that students can observe experiments,collect data, analyse it and make inferences. Some of the equipmentare a working model of vandegraff generator, travelling microscope, optical bench, a variety of lens and mirrors, and electronic equipment like logic gates, rectifiers and diodes. The laboratory equipment and atmosphere inculcate scientific skill and problem solving ability in the students to a great extent.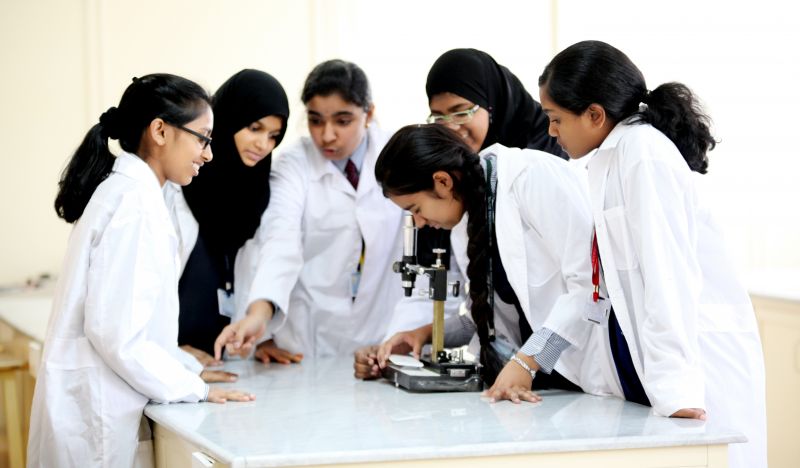 Chemistry Lab:
The chemistry laboratory is well-maintained with required chemicals, reagents and apparatus. It provides a wide range of facilities to perform investigatory projects, tests in organic, volumetric and qualitative analysis and contains sophistic apparatus and chemicals required as per the CBSE syllabus. Practicals are conducted in a systematic and organized manner by qualified staff. Safety measures are strictly followed.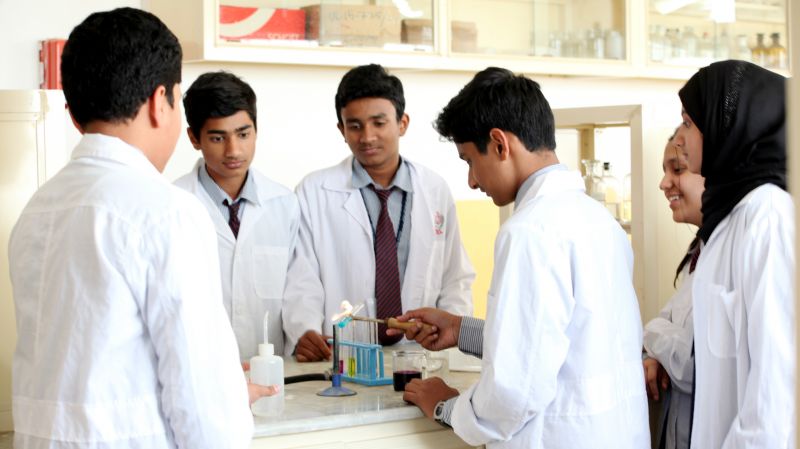 Biology Lab:
The biology lab is a wonderful resource site for developing awareness and interest in the life sciences. Traditional as well as latest technological devices help to develop the interest and satiate the curiosity of the children. Our biology lab has an extensive range of scientific models,specimens, slides,charts, instruments, equipment's and apparatus that cater to the scientific needs of all levels of classes right from the primary to the senior secondary level.
A well-maintained garden near the lab provides a large sample of plants and soil for observation and analysis.

Computer Lab:
The school has two computer labs (senior and junior computer labs) with the latest electronic and technical requirements. Keeping pace with the modern times, IT education is given priority and both teachers and students are exposed to modern trends in computer education.
Students are motivated and encouraged to join the Olympiad club to develop sustained interest and to nurture their talents and skills. Students of all classes are trained to appear for International Informatics Olympiad competitive Examinations.
Several new computers have been recently acquired to improve the quality of the labs.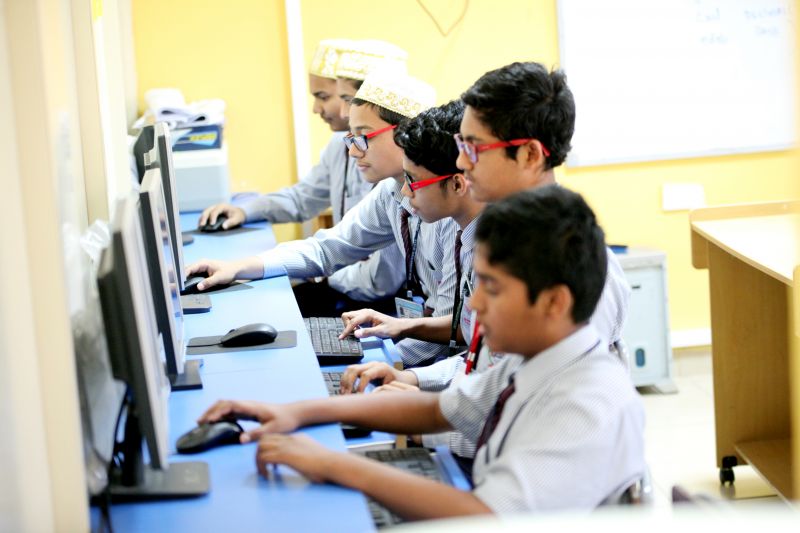 Library:
"Once a child learns to use a library, the doors to learning are always open"
Our school library is the hub and center of intellectual activity for all subjects. It boasts of a large collection of books covering a variety of topics ranging from astronomy to zoology.The well –stocked reference section houses various encyclopedias, dictionaries and non-fiction books on almost all topics required for students. It is also equipped with questions banks, newspapers, journals, maps, charts and globes for assisting teachers and students.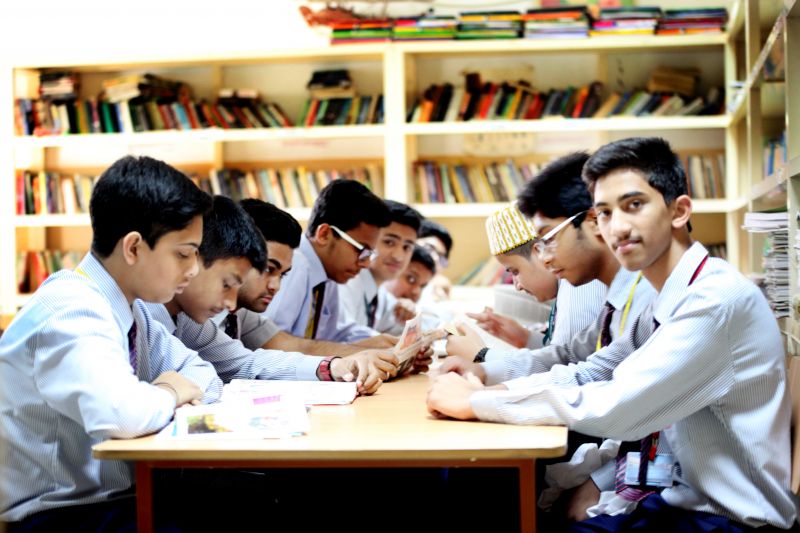 A.V room:
The school provides the facility of an a.v room where classroom teaching is supplemented with audio-visual aids. Children are encouraged to enjoy learning outside the four walls of the classroom while teaching is also made more effective.

Department of Physical Education:
A play ground is said to be the cradle of democracy. Through sports,games, and athletics children develop several qualities like sportsmanship, team spirit, co-operation, judiciousness, self-confidence and discipline. At IIS, the P.Ed department believes that a healthy mind resides in a healthy body. To mould a healthy student community the school regularly conducts aerobics and drills during the morning assembly and P.Ed.Classes.

Adequate facilities are available to provide the children with the chance of playing both indoor and outdoor games in order to ensure physical, mental and moral development. The school has two well –maintained badminton courts, one basketball court and fields for footballand cricket. The school also provides separate rooms for table tennis, yoga and chess.
Members of Sexual Harassment committee
Mr. F.M Basheer Ahmed
Mrs. Sophy John
Mrs. Nalini Prasad
Art Room:
The school art room is a treat to the eyes .Selected art and craft works of the students are systematically exhibited. The participants of inter-school competitions are also trained here.
Faculty
"A good teacher is like a candle- it consumes itself to light the way for others".

Our team of teachers comprises qualified, international staffwho are dedicated and hardworking. They believe in the importance of their profession and put in their heart and soul to mould children into successful members of the society. They aim to improve the academic prowess, self-esteem, life skills and physical fitness of all the students.

Through regular workshops and seminars our teachers are exposed to the latest trends in teaching and are constantly motivated and encouraged to employ the best possible methods to instruct the children.

The freedom of expression, the joy of sharing and the untiring effort to go the extra mile makes the faculty distinct. The non-teaching staffs are also well-qualified competent and skilled members of the school. They carry out their work systematically and efficiently in order to keep the administration section in top shape.
Name of the Grievance / redressal Officer
a) In Acres
:
2.347 Acres
b) In sq.mtrs
:
9500 sqm
c) Built up area sq.mtrs
:
4962 sq.m
d) Other Facilities:
i)Indoor Games
ii)Music Room
iii)Health and Medical Checkup